Pressure Washing Kitchen Exhaust Cleaning
Restaurant Kitchen Exhaust Cleaning Company
Commercial Cleaning Service
*** We provide Health & Safety CERTIFICATE as per NFPA 96 code, before and after pictures will be provided after the completion of work.
*** We are NFPA #96 CERTIFIED Kitchen Exhaust System Cleaning Company.
*** WSIB and Liability Insurance will be provided before the start of work.
We Have The World's Most Awesome Clients










Pressure Washing
Kitchen Exhaust Cleaning
A clean commercial kitchen is a key to the health and safety of your employees and customers. As the manager, owner, or supervisor of a commercial kitchen facility, you know that your kitchen exhaust and venting systems will become clogged with grease and food particles as they are used.
Over time, these systems can become so dirty that they can no longer work effectively. This means an increased risk of fires and bad odors throughout the building. It also means higher energy bills due to reduced airflow.
In order to maintain the quality of your kitchen and keep it working properly, you need a professional company that offers expert commercial kitchen exhaust cleaning and pressure washing services.
Professional power washing services from Niagara Falls Hood Cleaning help you avoid the unsightly problems that come from neglecting to clean your business. The buildup of dirt, grime, and grease causes major problems for businesses if left unchecked. By keeping on top of your power washing and cleaning schedule, you can make sure your business makes a great first impression every time.
Power washing affords the most effective kitchen exhaust cleaning strategy, with a deep cleaning that removes all grease and dirt from the surface. Not only does power washing help with the immediate problem, but it also helps to prevent future issues from developing, such as fires or other safety hazards in your business.
Power Washing Hood Cleaning in Niagara Falls, ON
Power washing a kitchen exhaust system makes perfect sense from the standpoint of kitchen hygiene. But how many people think about the hood system when they clean their kitchen? It's easy to forget that these systems can also become grimy and need cleaning.
Power washing a kitchen hood is an important part of your regular maintenance program because it helps to keep your staff safe and your business running with no issues. The process involves highly specialized machinery that is effective at removing grease and grime. It also uses high-pressure water to remove everything from the hood system so that it can work with maximum efficiency.
At Niagara Falls Hood Cleaning, our expert cleaners will offer you a comprehensive and highly detailed cleaning of your hood system. We use top-grade cleaning products to ensure that your kitchen is always clean and safe for employees, customers, and all those who visit.
The difference between power washing and traditional cleaning is that the water is not simply sprayed onto the surface. Instead, a powerful jet of water is applied to remove all grease and dirt embedded into the hood system. This cleaning method also includes checking for any damage to your hood system, so you won't have to worry about issues developing in your restaurant down the line.
Pressure from the high-pressure spray clears away all dirt and grease without the need to reach and scrub the most inconvenient of spots. This method is perfect for any busy commercial kitchen, and it allows you to get back up and running in no time at all.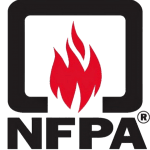 Our Fully Trained Service Technicians Follow The NFPA 96 (National Fire Protection Association) Standards for Hood & Kitchen Exhaust Cleaning.
Get Your Free Hood Cleaning
Estimate Now!
Power Washing Services Near Me
The best part of our power washing service is the quick turnaround. No other method of exhaust hood cleaning is faster and more efficient. Typically, we can get your hood system cleaned in as little as four hours.
If you have any questions about our power washing service or are looking for more information on how this process can benefit your commercial kitchen, contact us any time.
Power washing a kitchen hood is an effective, practical, and safe method of eliminating all grease buildup. If you have a commercial kitchen and are not using the pressure washing method to clean your hood system, it's time for a change!
The NFPA 96 standard talks about the "bare metal" requirement, wherein the kitchen exhaust hood system must be cleaned to a "bare metal" condition and all grease, oils, and other deposits removed.
This practice has been found to be one of the most effective methods of cleaning due to its ability to completely remove years of accumulated grease without causing damage or leaving behind any residual impurities.
The NFPA 96 standard also requires kitchen exhaust systems to be cleaned as often as necessary but no less than every six months. This means that you should have your system power-washed at least twice a year, depending on the amount of food cooked in your commercial kitchen.
Pressure Washing for Niagara Falls Restaurants
Restaurants serve patrons on almost a non-stop basis, and this means that your kitchen is continuously cooking food. This results in an accumulation of grease and grime over time that can be extremely difficult to remove manually. This is doubly true if you haven't had a thorough cleaning for a long time. The grease and grime will solidify and become difficult to remove.
If you're looking for a fast, efficient, and affordable option for regular cleaning of your kitchen exhaust hood system that complies with NFPA standards, contact Niagara Falls Hood Cleaning today. We offer power washing services specifically designed to clean all areas of your system, including the fan housing and filters.
Our detailed approach includes the following:
Inspecting for damage

Removing all grease and dirt buildup

Cleaning the fan housing

Cleaning filters and exhaust fans
Be reminded that power washing isn't the only cleaning method we offer. If you're looking for a reliable hood cleaning service that goes the extra mile to make sure your kitchen is clean, safe, and compliant with safety regulations, call us! We look forward to working with you.
Hot Water Pressure Washer for Hood Cleaning
There's a reason why we use hot water for our hood cleaning service in Niagara Falls ON. The commercial kitchens that we cater to are constantly busy, whether it's for breakfast, lunch, or dinner. All of this cooking results in the accumulation of a boatload grease and grime in a short span.
Our pressure washing method is actually more effective than other methods out there because we use hot water. Hot water penetrates grease and grime that have accumulated inside the hood system of your commercial kitchen much faster and more efficiently than other methods. Plus, there's less risk of damage to the hood system because we don't use harsh chemicals like bleach or caustic degreasers.
With over two decades of cleaning commercial kitchens in Niagara Falls, Ontario, we can attest that we carry with us the experience needed to get your kitchen hood system clean in no time. Our team will leave it looking brand new without causing any damage whatsoever, so call us today for a free estimate!
The exhaust fan blades of your restaurant kitchen deserve the most credit for all the components of the hood. Without them, no matter how well-designed and efficient your exhaust system is, it won't be able to remove smoke, steam, heat, and grease from the kitchen.
The exhaust fan blades are designed specifically for this purpose and can withstand the high amounts of heat that are generated in a commercial kitchen. They must also be kept clean at all times, so make sure that your exhaust system is inspected and cleaned at least twice a year.
Niagara Falls Hood Cleaning is the best choice for your kitchen hood cleaning needs. We're a trusted provider of pressure washing services with the speed and experience needed to get any commercial kitchen in top shape. Call us today!
Kitchens that prepare and serve food in commercial establishments, i.e., restaurants and hotels are prone to a quick build-up of grease and grime. It's a common and natural occurrence, considering that the kitchen is continuously cooking food throughout the day.
That said, the NFPA has recommended that hood systems must be inspected and cleaned at least twice a year. But that's not applicable if your kitchen is busier than usual, say during the holidays. Regular cleaning is needed when that's the case – and we can help with our comprehensive hood cleaning services.
So, what happens if the exhaust system doesn't get cleaned on time? The grease and grime that accumulates can cause a number of problems, including:
Harm to employees working in the kitchen who inhale this dirty air

Damage to your hood system due to overheating

Risk of fire due to built-up flammable residue on the exhaust fan blades, filters, and housings
To prevent these problems, call the experts at Niagara Falls Hood Cleaning. We offer fast and efficient services that will keep your kitchen safe, clean, and compliant with safety regulations.
Reliable industrial kitchen cleaning services in Ontario
We're proud to offer reliable, high-quality industrial kitchen cleaning services in Ontario. Whether it's a one-time affair or if you need us to regularly clean your kitchen, you know that we can get the job done. Plus, our prices are more affordable, so call us or use our online form to get a free estimate.
Industrial cleaning is our forte, and sad to say, not all our competitors can offer the same. You may be persuaded to spend a little less on services, but you'll get what you pay for. That's why we're sure that Niagara Falls Hood Cleaning is the best choice for your industrial kitchen cleaning needs.
Our team is Ontario's most trusted when it comes to kitchen exhaust cleaning – be it a restaurant, hotel, hospital, school, or other commercial establishment. We're fast and effective, and we use high-quality equipment to guarantee that it remains compliant with safety regulations.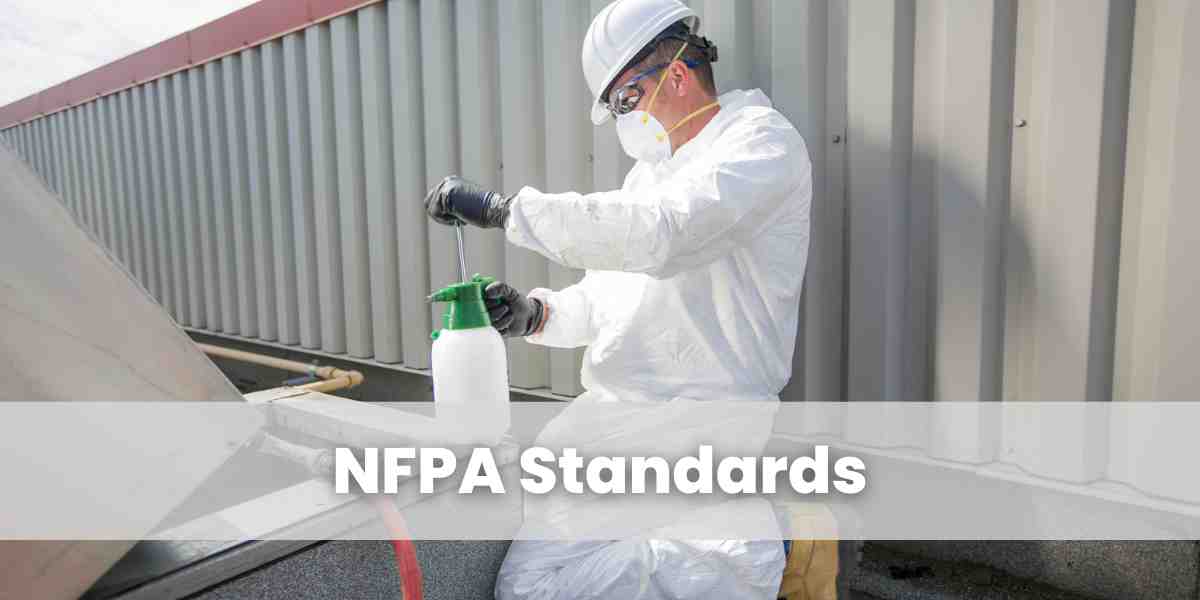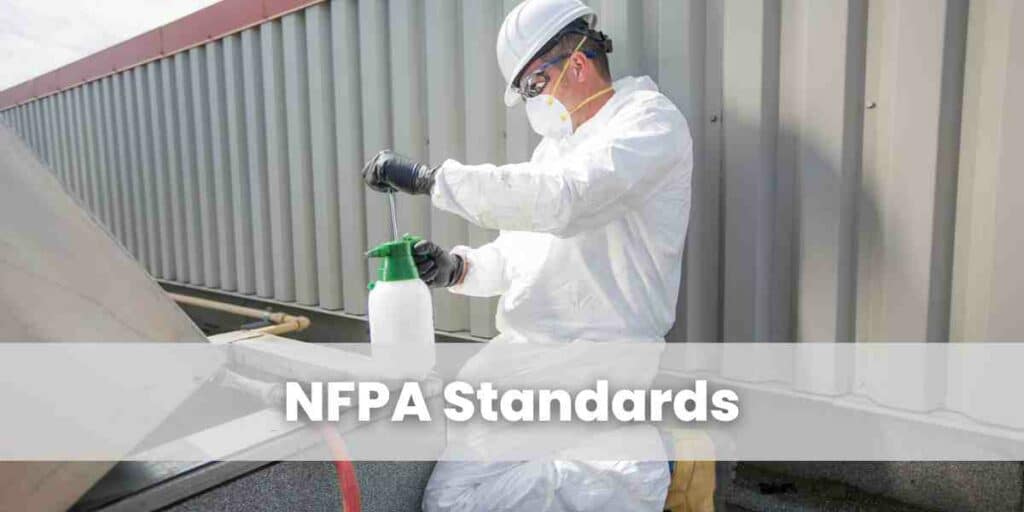 The NFPA standards for commercial and industrial kitchen cleaning are extensive. They're also meant to be used as guidelines and not as hard-and-fast rules. Having said that, if you want your kitchen exhaust system to be in top shape, then you are to follow these standards strictly:
The design of the hood must be suitable for the type of cooking being done.

The hood must be able to capture and remove heat, grease and moisture at their source

The ventilation system must be designed so that it doesn't cause negative air pressure in the room

There should be no open flames, which can generate dangerous amounts of carbon monoxide or hydrogen oxide if they come into contact with combustible grease or vapour

The exhaust fan must be of the proper size, and it should work continuously. It's also important that these fans are fitted in a way that allows for easy cleaning of the motor and blades.
If you want your commercial kitchen to pass safety inspections, then you need to give us a call at Niagara Falls Hood Cleaning. We're experts when it comes to kitchen exhaust cleaning, and we can guarantee you that our services are efficient, cost-effective, and comply with the NFPA standards.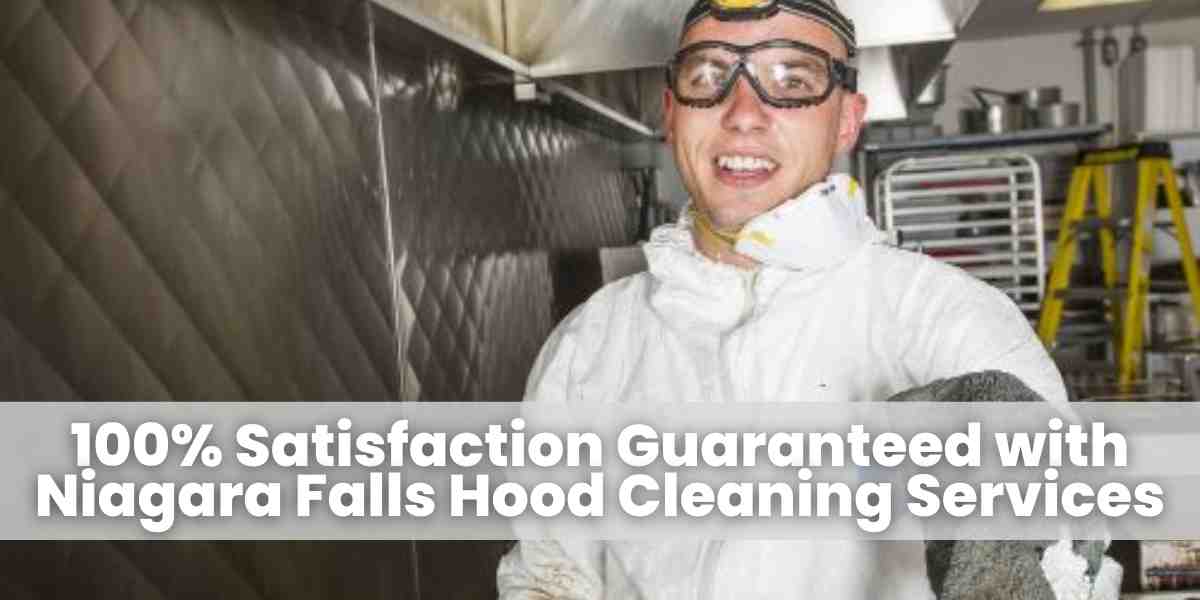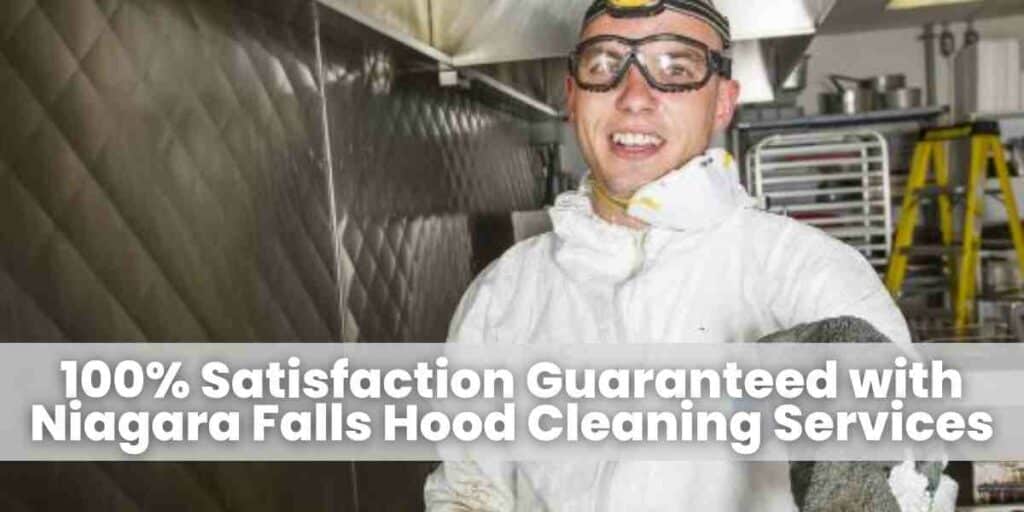 100% Satisfaction Guaranteed with Niagara Falls Hood Cleaning Services
Our 100% guarantee for restaurant hood cleaning in Niagara ON covers the following:
We'll be punctual and arrive when we say we will.

Our services are performed by certified, experienced professionals, who are also friendly and courteous.

Our products and equipment are of the highest quality, and they comply with all safety regulations.

We'll leave your entire exhaust system clean beyond your expectations.
So, if you're looking for hood cleaning services in Niagara ON that you can trust, go with Niagara Falls Hood Cleaning.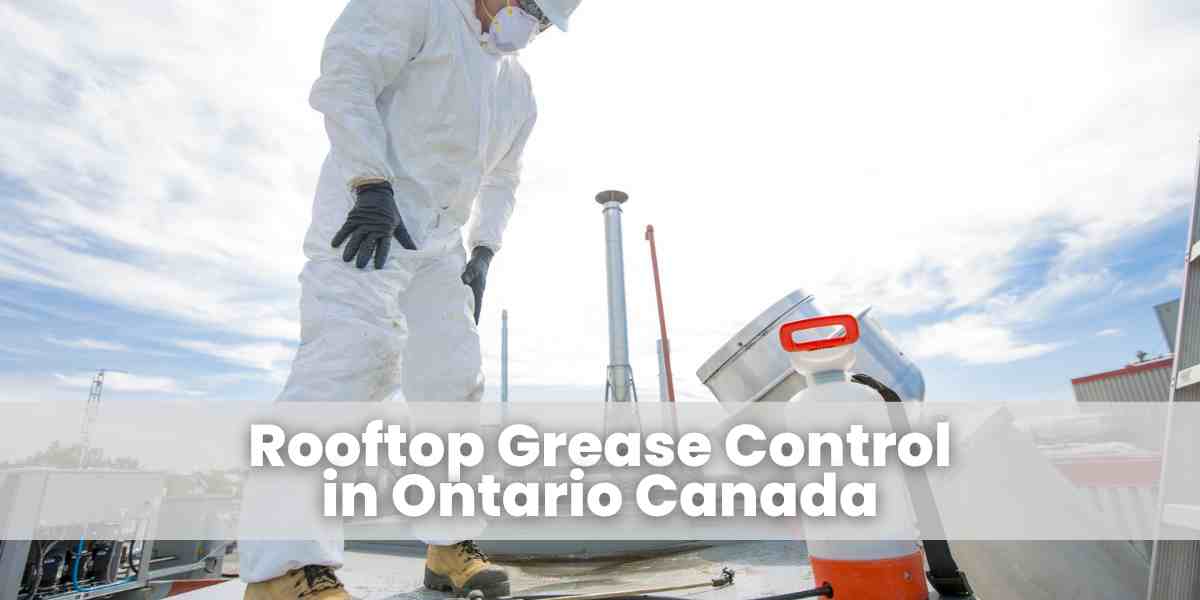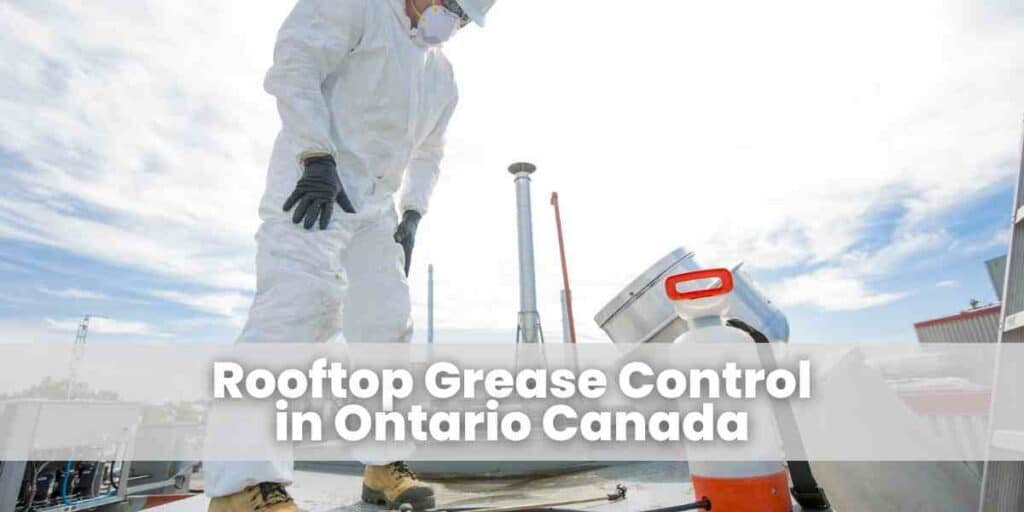 Rooftop Grease Control in Ontario Canada
The kitchen hood is just one of the many features of your commercial kitchen that needs to be regularly cleaned. Another is the rooftop grease control, which should also be done at least twice a year.
If your kitchen is constantly being used throughout the day, then it will need to be cleaned more frequently than if it's only used a few times daily.
Niagara Falls Hood Cleaning is the expert in rooftop grease control in Ontario. We install rooftop grease control systems that are designed to be efficient, safe, and easy to clean.  We also afford cleaning and maintenance so you don't have to worry about it. Our team of experts can help you choose the right rooftop grease control system for your commercial kitchen. Call us and we'll discuss your options.
What People Are Saying
See what our customers are saying about us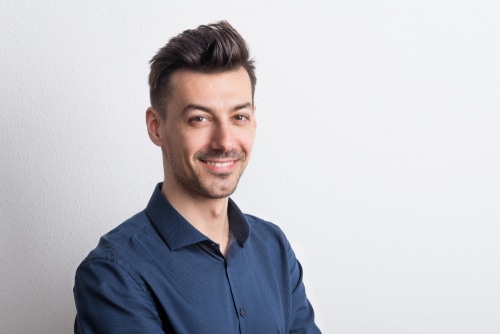 Been using this company for years. They are professional and do an excellent job.
Very happy with the cleaning of our kitchen exhaust system. Thanks
Niagara Falls Hood Cleaning Areas Served