Restaurant Kitchen Exhaust Cleaning Company
Commercial Cleaning Service
*** We provide Health & Safety CERTIFICATE as per NFPA 96 code, before and after pictures will be provided after the completion of work.
*** We are NFPA #96 CERTIFIED Kitchen Exhaust System Cleaning Company.
*** WSIB and Liability Insurance will be provided before the start of work.
We Have The World's Most Awesome Clients










Are you in compliance with the NFPA #96 Fire Code? If you're not, cleaning your kitchen exhaust hoods is a mandatory requirement in Ontario Canada. You could get in trouble with your insurance company and the fire department if they find out.
The National Fire Protection Association (NFPA) is a non-profit organization that sets forth minimum fire safety requirements and guidelines for buildings and facilities across the United States. NFPA 96 was ultimately adopted by the Ontario Fire Code to establish minimum standards for kitchen ventilation in commercial kitchens, ensuring that exhaust hoods are cleaned and maintained to prevent fires.
One of their main standards, NFPA 96, outlines specific requirements for keeping kitchen exhaust hoods clean in order to prevent fires and other dangerous situations.
To be in compliance with the NFPA 96 Fire Code, commercial kitchen owners must schedule regular cleaning and maintenance of their exhaust hoods to ensure they are free of grease buildup, blockages, and other hazards. Our fire safety technician will inspect your system to identify any problems or defects that need to be fixed.
If you fail to comply with the NFPA 96 Fire Code, you risk having your insurance coverage revoked or denied, along with hefty fines from the fire department. Hence, it's in your best interest to take this issue seriously and ensure that your kitchen exhaust hoods are properly cleaned and maintained.
NFPA 96 Kitchen Exhaust Hood Cleaning in Niagara Falls, ON
The NFPA 96 fire code outlines the minimum standards that must be met for exhaust systems in commercial kitchens internationally. This low-volume cooking activity standard is essential for the operation and maintenance of these types of systems so that there can be proper functioning in these environments. In recent years, the number of restaurant fires has increased dramatically. In many cases, these disasters have been linked to poorly functioning exhaust systems.
Releasing exhaust air into the open air is crucial to prevent it from being circulated back inside the building. The code requires that grease-laden fumes must be quickly and efficiently removed from the kitchen area to prevent accumulation and potential fire hazards.
Niagara Falls Hood Cleaning is here to help you meet the NFPA 96 fire code and prevent fires from destroying your commercial kitchen. With over two decades of doing business, our certified technicians know what it takes to keep your establishment up to code. More importantly, our safety record speaks for itself – we have never had a fire or injury on the job.
NFPA 96 Commercial Cooking Operations for Niagara Falls Ontario Restaurants
A restaurant that fails to keep up with its obligations can have its business shut down and face hefty fines from the fire department – this is the repercussion of not complying with NFPA 96. When it comes to kitchen exhaust hoods, time is of the essence as these fumes need to be released into the open air in order for fire safety and prevention.
Performing regular cleaning and maintenance on your commercial cooking equipment in Niagara Falls ON will help prevent grease fires before they happen, saving you money in repairs and insurance costs, and keeping your customers and employees safe. Contact Niagara Falls Hood Cleaning to get started!
Remember, it's your responsibility to ensure your Niagara Falls restaurant is up to code, but it doesn't mean you'd be the one to do the actual cleaning. Leave it to the experts at Niagara Falls Hood Cleaning to ensure that both your kitchen and exhaust hoods are regularly cleaned for you to comply with NFPA 96.
Don't worry about the cost – we'll begin with an accurate estimate and go from there. The last thing we intend to see is for you to walk away because of the cost. We'll make you comfortable with the price before you put down the pen.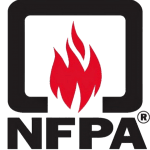 Our Fully Trained Service Technicians Follow The NFPA 96 (National Fire Protection Association) Standards for Hood & Kitchen Exhaust Cleaning.
Get Your Free Hood Cleaning
Estimate Now!
NFPA 96, Standard for Ventilation Control and Fire Protection of Commercial Cooking Operations
Niagara Falls Hood Cleaning is dedicated to meeting all of your fire safety expectations pertaining to NFPA 96 and we'll do our best to assure that you are in compliance with all laws. We want to make sure that you're set up for success when code enforcers come knocking at your door. Our goal is for you to remain in business so that we can be there when you need us the most.
Don't wait to schedule a consultation – fill out the short form on our site and one of our trained associates will contact you promptly to discuss your concerns and needs. We're looking forward to hearing from you!
Niagara Falls NFPA 96 Inspection Checklist
1. Exhaust Hoods and Air Supply Ventilation Ducts.
a) Are the exhaust hoods clean? b) Is there food buildup in filters or on baffle plates? c) Can grease be easily wiped off of filters? d) Are air supply ducts accessible for cleaning and removal of grease deposits?
2. Grease Disposal Unit (Suction Scupper or Grease Separator).
a) Is the suction scupper installed according to the manufacturer's instructions? b) Are waste water drains properly connected and functioning? c) Is the overflow pipe extended below the maximum liquid level? d) Is the grease separator maintained so that it collects 25% of the total grease and wastewater? e) Is there a properly functioning backflow preventer on drains, connected to the drainage system?
3. Grease Storage Container.
a) Does the container have a cleanout fitting installed at the bottom of the container? b) Does the container have a watertight top? c) Is there a grease level indicator on the container lid? d) Is the container vented to the outside of the building?
4. Exhaust Fan and Motor.
a) Does the fan operate at all times when the exhaust hood is in use? b) Do fans have an automatic reverse shutoff device that activates if the pressure differential becomes excessive? c) Do you have a spare exhaust fan? d) Is there a safety interlock system to prevent the operation of fans should the power fail?
5. Exhaust Hood Fire Protection System.
a) Are the automatic fire suppression systems in place and operational? b) In an exhaust hood, is there a heat sensor, or is the fire suppression system automatic? c) Are there extinguishers installed in the exhaust hood to be used by employees when required?
6. Kitchen Equipment and Other Appliance.
a) Does all equipment have a listed approval label that can be reached easily for cooking inspection frequency systems? b) Are gas appliances located so that they cannot be ignited by grease and other flammable vapours? c) Do exhaust hoods extend far enough beyond the commercial cooking equipment with high heat output, to minimize the danger of grease fires? d) Does all electrical equipment have a proper grounding system in place? e) Are the range tops set up with a pilot shield, or are they protected to keep out flames and hot grease?
7. Cooking Area (annual).
a) If you cook with a high heat output source, is there a minimum of two feet between the cooking equipment and combustible material? b) Are all appliances at least 12 inches from the wall or partition that separates the cooking area from any other area of the facility? c) Are there cooking equipment located in areas with adequate ventilation, and away from other fixtures?
8. Ovens (annual).
a) Is there a fire suppression system installed in ovens that have gas or electric heat sources and/or pilot lights? b) If the oven works on electricity, is it equipped with an approved fire protection system (if the oven has heat-producing elements)?
If you wish to cover all these elements with a single inspection, please refer to the NFPA 96 Standard for Ventilation Control and Fire Protection of Commercial Cooking Operations. This is the document that lays out all requirements and standards for commercial kitchen maintenance in detail.
To make things easier, work with Niagara Falls Hood Cleaning since we have experience serving commercial kitchens. We'll draw up an inspection schedule for you, making sure all items are covered in the right amount of time and providing your kitchen staff with a reference point for safety inspections.
Niagara Falls NFPA 96 Certification Information
The NFPA 96 is a nationally recognized code standard for commercial kitchen cleaning, safety and fire prevention. This code has been adopted by the Ontario Fire Code. The NFPA 96 sets standards for kitchen hoods, grease removal systems and exhaust fans which are used in most commercial kitchens across North America. The codes provide an overall performance standard, as well as specific requirements for the design, installation, operation and maintenance of these systems. This will help owners in reducing the risk of fire and maintain a clean and safe kitchen environment.
The NFPA 96 also states that all commercial kitchens must be inspected by certified companies at least once per year. With the new Ontario Fire Code, following NFPA 96 is mandatory for all facilities that use a commercial cooking appliance — with few exceptions.
ALL commercial kitchens and restaurants are required to have annual inspections. This is where Niagara Falls Hood Cleaning can help you. We provide a complete NFPA 96 Inspection and Safety Certification program for all of our customers, ensuring that your building meets the standards set out by the Ontario Fire Code. We are fully certified to conduct these inspections and we will provide a complete written report at each inspection, as well as photos of any problem areas that require attention.
Grease Removal Devices for Niagara Restaurant Owners
A grease removal device is essential to the proper functioning of a commercial kitchen. A major fire hazard can be created when grease is allowed to build up inside hoods, exhaust fans, and ductwork. The NFPA 96 establishes the minimum requirements for a grease collection device; including its design, installation, maintenance, and use. It also states how often inspections must be done.
The NFPA 96 certification is an annual requirement for all commercial kitchens in North America, and it's a hot topic among restaurant owners in Niagara Falls. This is because the Ontario Fire Code was recently amended to include this standard as mandatory. There are even listed grease removal devices. The code states that any facility with a cooking appliance must have this inspection done annually. That means that if your restaurant uses a commercial microwave, fryer, deep fryer, or any other cooking appliance in the kitchen, you need to have an NFPA 96 inspection.
To learn more about the Ontario Fire Code and how it applies to your restaurant, call Niagara Falls Hood Cleaning today.
100% Satisfaction Guaranteed with Niagara Falls Hood Cleaning Services
Keep your kitchen up to code, and it's best that you be consistent with it. Doing so requires the help of an established provider for NFPA 96 certification and other commercial kitchen cleaning services. Niagara Falls Hood Cleaning offers the highest quality NFPA 96 certification, professional hood cleaning, restaurant exhaust systems inspection and much more.
You must work with us because we provide a 100% satisfaction guarantee on our services. We're a fully insured, certified, and experienced service provider that is dedicated to supplying our customers with the best value for their money. We're proud of our high customer satisfaction ratings and we do everything in detail to ensure you are pleased with your experience working with us.
NFPA Code 96 for Hood Grease Filters
The NFPA Code 96 covers a broad range of aspects related to the kitchen hood system, which it's also known as the ventilation equipment. By definition, this system is composed of exhaust fans, ducting, and filters that are responsible for removing grease-laden vapors, heat, and grease from the air in the restaurant or commercial kitchen.
The hood grease filters require attention at regular intervals, as they can clog up and become a fire hazard if not cleaned out properly. This is why it's necessary for restaurants in Niagara Falls to have their hood filters serviced regularly. Fortunately, we are experts at handling such tasks on a weekly or monthly basis, depending on the type of business you run.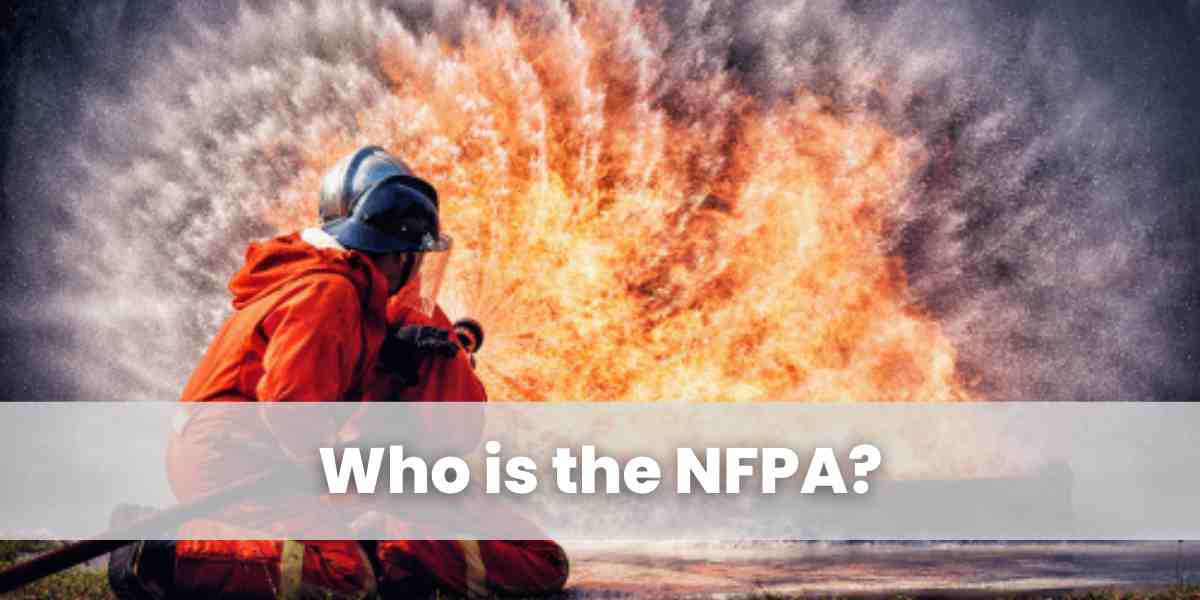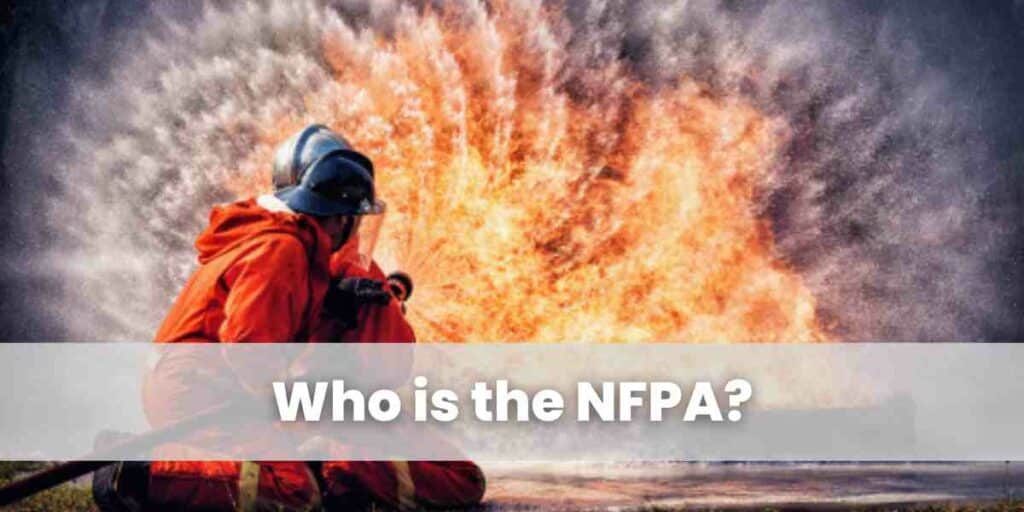 The National Fire Protection Association, sometimes known as NFPA for short, is a federation that was founded on fire and safety rules and strives to limit the number of deaths, injuries, and property damage that are brought on by fires and electrical systems. This standard is adopted by local governments in order to assist in the establishment of model building codes for firefighters. These items include kitchens designed specifically for use in the building of commercial construction sites as well as firefighting equipment.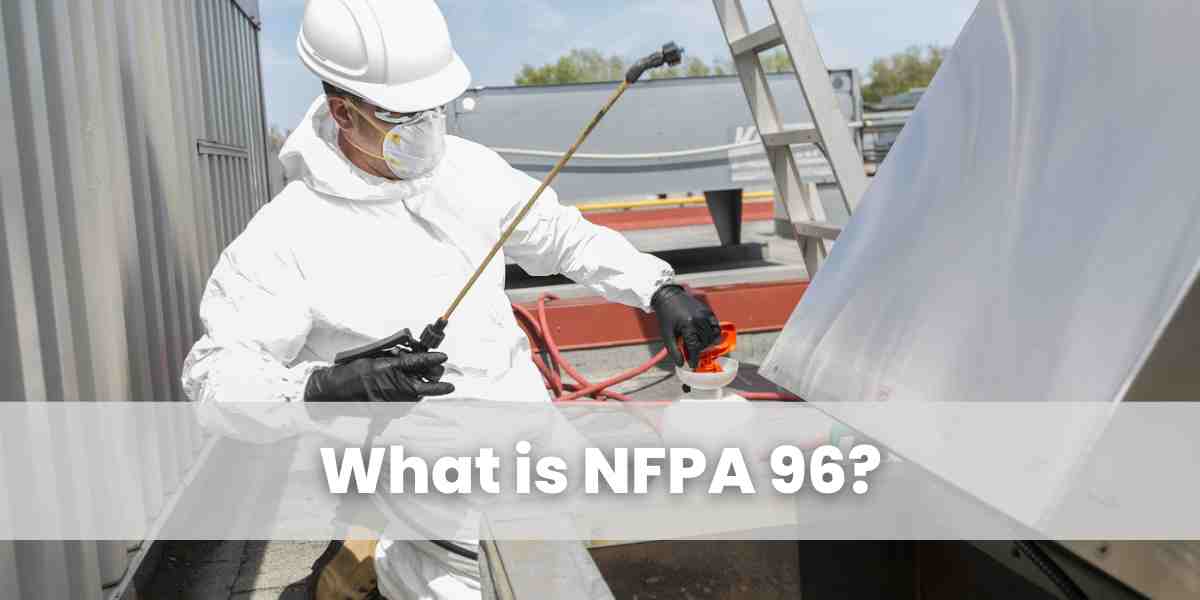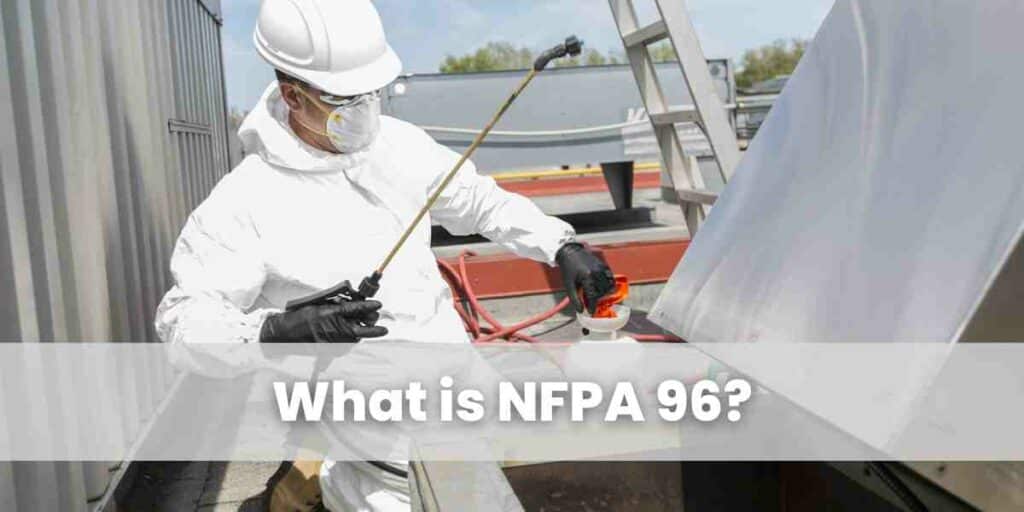 The National Fire Protection Association's NFA 96 code is the standard code that establishes requirements for ventilation protection in commercial culinary operations. These standards were developed by the NFPA. The National Fire Protection Association Standard 95 mandates the presence of fire marshals in all commercial kitchens. You have to make sure that you are in accordance with NFPA96.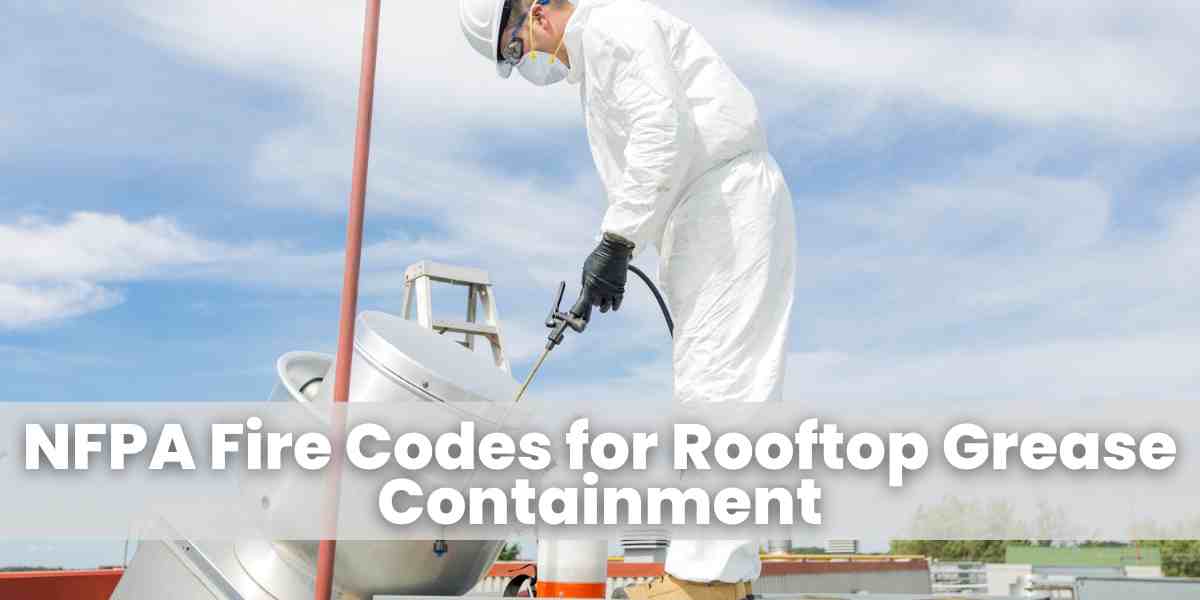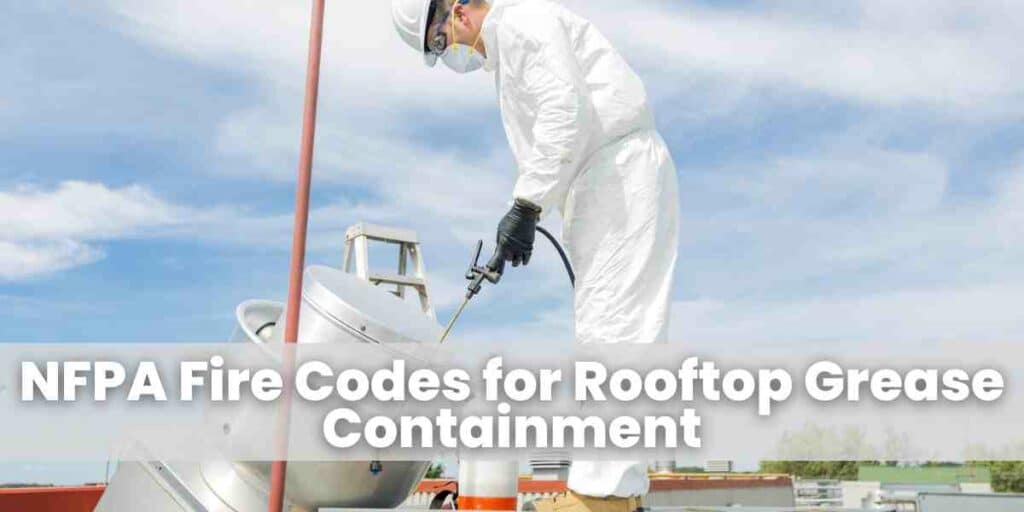 NFPA Fire Codes for Rooftop Grease Containment
Grease containment systems are another important component in the maintenance of a commercial kitchen. These systems play an essential role in preventing fires, as they're responsible for safely collecting grease and other debris that may fall from the air during cooking. Over time, these units must be emptied or cleaned out to ensure their effectiveness.
The NFPA Fire Codes state that rooftop grease containment units must be inspected and cleaned once every year. These units can then be re-inspected to ensure they've been serviced properly by a licensed company like ours. If you're not sure if your restaurant has such a unit, or how often it needs cleaning, talk to us. We'll tell you more about your responsibility and how we can help with it.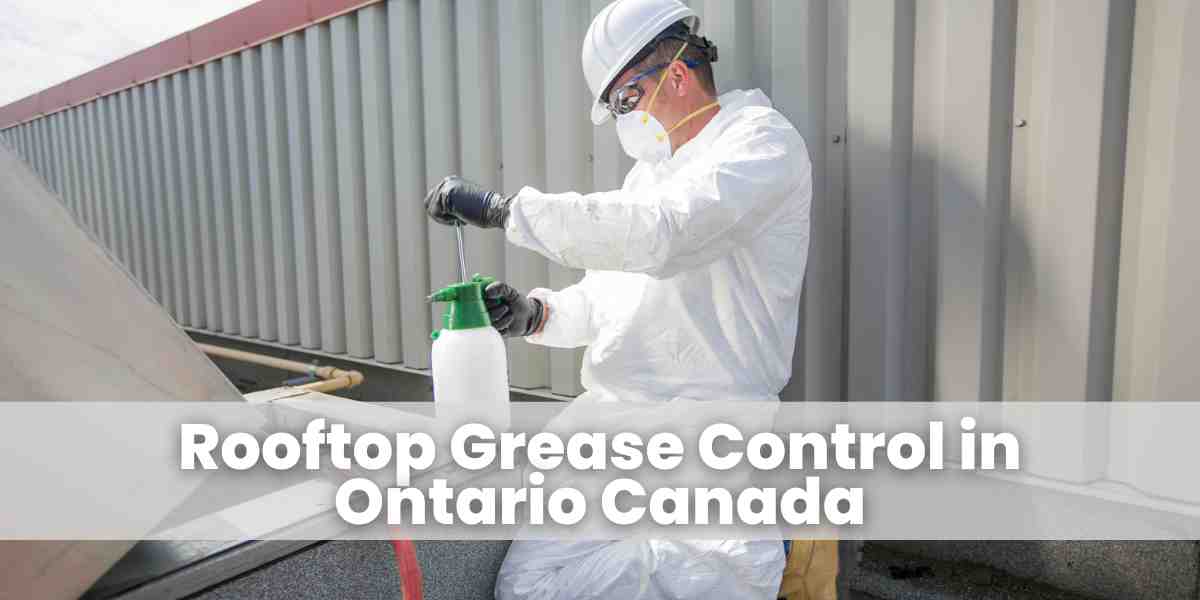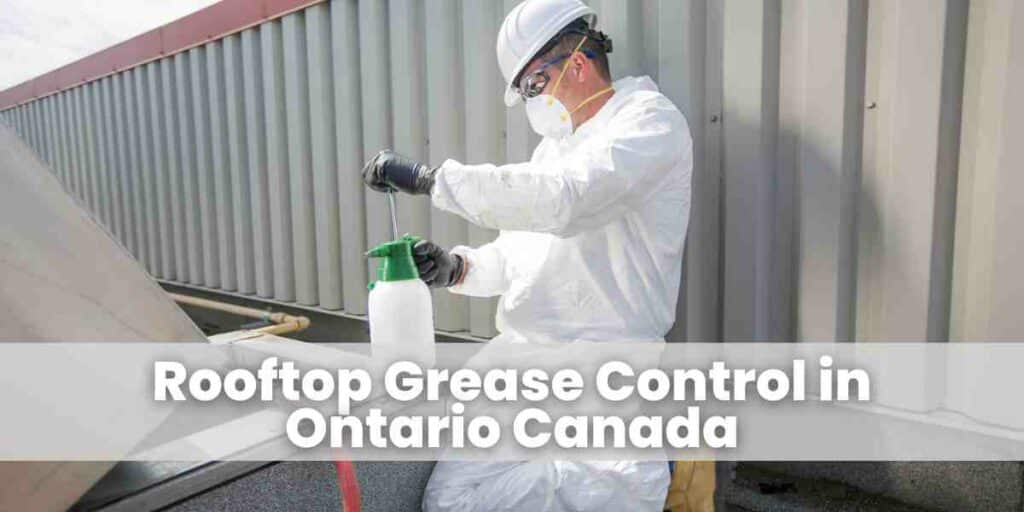 Rooftop Grease Control in Ontario Canada
Niagara Falls Hood Cleaning is a full-service commercial kitchen cleaning company. As such, we don't just clean and maintain your exhaust system – we also cater to rooftop grease containment systems. We offer a reliable service that's designed to provide you with a quick and easy solution for any type of situation. After all, every commercial kitchen is unique and requires specialized attention.
When it comes to cleaning rooftop grease containment systems, we leave no stone unturned! Our staff takes pride in providing the best quality service possible while adhering to the Ontario Fire Code.
We perform routine inspections, retrofit systems and repairs, guardrail replacement and other maintenance-related tasks as necessary in order to ensure that your rooftop grease containment system gives you the best possible return on investment. We're a company you can trust with all your commercial kitchen needs!
What People Are Saying
See what our customers are saying about us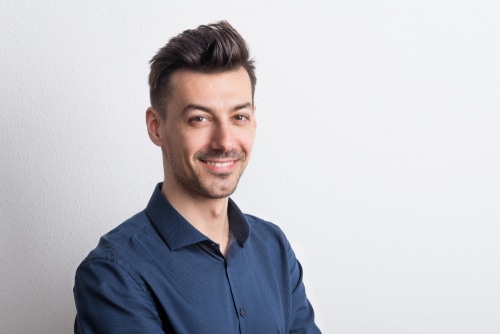 Been using this company for years. They are professional and do an excellent job.
Very happy with the cleaning of our kitchen exhaust system. Thanks
Niagara Falls Hood Cleaning Areas Served